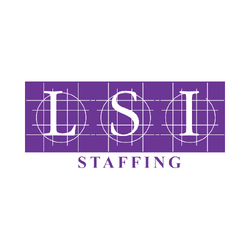 LSI Staffing Fort Worth
Recruiter
Mesquite, TX
LSI Staffing has an immediate opening for a recruiter at our Fort Worth and Alliance TX locations.
Are you an outgoing, detail-oriented employee looking for a new position? Do you have strong computer skills? Are you organized? Do you like talking to people? If so, LSI Staffing as your next career stop. We are looking for two Recruiters to come join our growing team!
We need employees who carry strong energy, have a desire to succeed and want to come to work and have some fun!
This recruiting position is fast paced and offers on the job training, hourly pay with OT, a weekly bonus opportunity as well as a quarterly lump sum bonus! This recruiting position needs candidates to have a little flexibility as we can work anywhere from 6:00 AM – 6:00 PM, Monday through Friday.
Start and end times will vary on occasion, so we want people who are able to flex with us. Almost every week you will have 2 to 3 hours of OT, but not too much more than that. LSI prides ourselves on being a balanced company when it comes to work/life balance. This recruiter role will have a heavy customer service approach, be reasonable for talking to and deal with customers, as well as running a recruiting desk in the office. If you're competitive and like to be rewarded for your work, this job is for you! These positions base pay starts between $15 - $18/hour depending on experience and offer both weekly and quarterly bonuses. Not to mention, the awesome PTO and benefits that accompany the position.
In this Recruiter role, your job duties will include:
• Utilizing multiple avenues to source and identify qualified candidates.
• Interviewing, testing and referring candidates to hiring managers; collaborating with the team to develop and execute recruiting strategy.
• Completing on-boarding paperwork.
• Noting all communications and updates in our applicant tracking software.
• Conducting screening including evaluation and administration of any necessary pre-employment tests.
To qualify you must:
• Have a an Associates or Bachelor's degree. Some college is preferred.
• Have strong communication and writing skills.
• Be proficient in Microsoft Word, Excel and Outlook.
• Possess an energetic and positive work ethic.
• Be reliable with a strong attendance record.
• Must have a customer service background with a desire to please.
• Be a happy person who wants to be part of a committed team.
LSI is growing fast and we need a couple of new team member to come in and grow with us. We are a results driven company with and a strong employee first cultural! If you are a fast learner, love to be challenged and thrive in a fast-paced career, this Recruiter career opportunity is for you!
LSI is a family owned and organically grown company that focus on providing our team members with all the advancement opportunities that they desire. Come join our team today.
We are an EOE employer
tu8syn85qqlk
315084255